About Us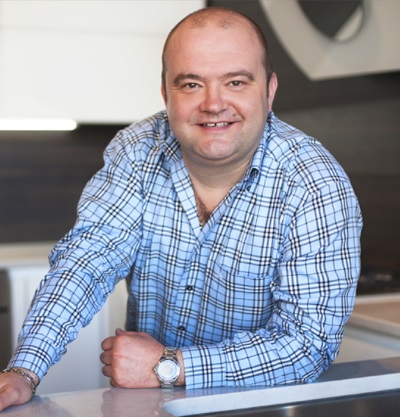 Since 1999, Entrepreneur Nicolas Andreasson has grown Granite & Marble Design by partnering with customers, employees, suppliers and the community for better relationships, trust and success.
Located in Sylvan Lake, MI, Granite & Marble Design fully specializes in natural stone fabrication and installation of fine custom granite, quartz, marble or engineered stone, countertops, tile flooring, hardwood floors and more.
See our portfolio for examples of our work.
With outstanding service and skilled craftsmanship, we have installed many custom pieces for builders and homeowners in the greater Metro-Detroit area. We have a reputation for quality work at affordable prices that brings us tremendous business through referrals from our past and satisfied customers.
Mission Statement
Granite & Marble Design specializes in fabricating and installing natural stone surfaces. From granite slab fabrication, to artistic tile installation, we take great pride in our craftsmanship. We strive to provide an outstanding customer service and install high quality stones.
Vision
Granite & Marble Design aims to become a regionally recognized company by partnering with our customers, employees, suppliers and community for better relationships, trust and success.
Our Customers
We truly attempt to create a strong relationship with our clients. From the first client meeting to the finished install, we want you to feel comfortable that you chose Granite & Marble Design for your project. We put your interests first!
Our Philosophy
It's very simple. We treat you with the same respect that we would treat our family or friends. By keeping your interests first, the rest falls into place. Happy clients keep us in business. We believe we've failed if you aren't willing to tell your friends about us. In everything we do, our goal is to avoid the negative stereotypes associated with contractors. By constantly seeking out new methods and technology, we ensure that all of our projects are completed up to and beyond current industry standards.
Going Forward
We are dedicated to steady growth through superior work and excellent customer service. Please help us by giving feedback on your experience. We are stead fast in looking for ways to make your experience first class.